United Way announces $52.5 million fundraising goal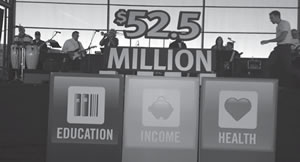 Greater Milwaukee announced a goal to raise $52.5 million during its Community Campaign kickoff Tuesday at the BMO Harris Pavilion on the Summerfest grounds.
The goal is $1 million over the 2012 goal. Mary Lou Young, president and CEO of United Way of Greater Milwaukee said the need in our community continues to grow and United Way needs to be able to respond.
"Our partners look to us to tackle the challenges our community faces and be an advocate for change," said Young. "And the only way we as a community will change things for the better is by each of us taking responsibility and playing a role."
United Way invests in 160+ programs at over 80 local agency program partners. Its focus is on Education, Income and Health, the building blocks for a good quality of life.
"Too many children in Greater Milwaukee are not graduating from high school on time which results in serious consequences for all of us," said Linda Benfield, Managing Partner Milwaukee Office, Foley & Lardner LLP and a 2013 campaign co-chair. "Reaching this goal is imperative so we can continue to invest in programs that help children succeed."
"Milwaukee remains one of the most impoverished cities in the country," added Greg Oberland, Executive Vice President, Products, Sales & Marketing, Northwestern Mutual, and a 2013 campaign co-chair. "United Way invests in programs that help families meet basic needs and that help adults improve their education level so that they can earn family-sustaining wages."
The Bucyrus Foundation has awarded a 10-year, $1 million grant to United Way to support reducing barriers to employment. The funds will be awarded in annual $100,000 grants that will be renewable each year of the commitment.
"Improving the health of our communities should be foundational to everything else we do and we all need to set a very high bar in terms of the expectations we have for the progress we need to make," said Brad Chapin, Executive Vice President, U.S. Business Banking, BMO Harris Bank, and a 2013 campaign co-chair.
"We set a higher goal for 2013 because it will help ensure that United Way is able to continue funding highly effective programs that help teens make healthier decisions, provide seniors with home health care, ensure access to behavioral and mental health care services, and that help survivors of abuse find a safer environment."
The Milwaukee Health Care Partnership has provided a $1.7 million Challenge Grant for a third year. Donations are matched by the Milwaukee health systems – Aurora Health Care, Children's Hospital of Wisconsin, Columbia St. Mary's, Froedtert & Medical College of Wisconsin and Wheaton Franciscan Healthcare – to help expand primary care to underserved and vulnerable populations.
United Way's 2013 Community Campaign runs through December 12. There are many ways to get involved with the campaign.
You can donate through your workplace giving campaign or make direct, personal contributions.
Learn more about our community-changing strategies and goals at unitedwaymilwaukee.org/Newsroom.htm Join us. Advocate for change at: Twitter.com/UnitedWayMilw Hashtag #LiveUnitedFest Facebook.com/UnitedWayGreaterMilwaukee.
Read More! - Related Articles:
Popular Interests In This Article: Community Campaign, Fundraisers, United Way